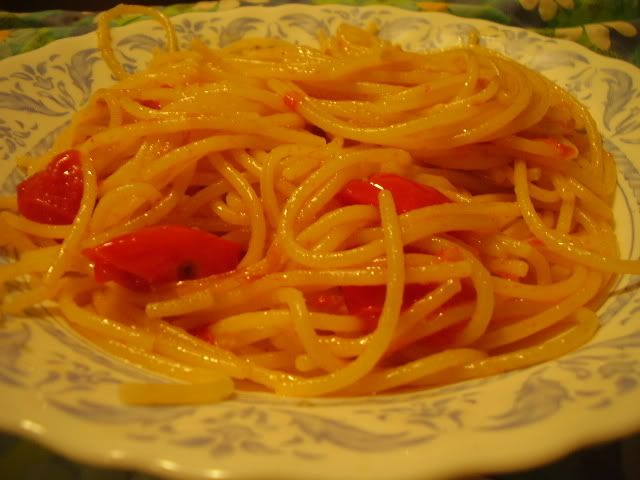 I was reading an article in the magazine Bon Appétit from May 2005 which was about Rome, Florence, and Venice. They had a short article about the grandson of Salvatore Ferragamo, the famous shoemaker from Florence. He became of food and wine professional in the family and manages their estate and restaurant in Chianti. One of the questions they asked him was, "After returning to Italy from a trip, what's the first thing you want to eat?" Ferrogamo replied," A good plate of linguine with cherry tomatoes, olive oil, and torn basil leaves. Keep it simple-that's the trick of Italian food. Let the ingredients make the dish."
That is what all the great chefs in Italy say. KEEP IT SIMPLE. Sometimes I find that chefs and cooks gets so overly involved with the process they forget that real people are going to eat their food. I make the following dish about 2-3 times a week, and it is especially great right now with summer's last tomatoes. I find that I crave this dish more than any other when I am not at home. It is also great for those nights after a long day of work when you just want something simple. Now that we are heavily involved with volunteering with dogs, our time is becoming more limited. This dish only take the amount of time one needs to boil water and make al dente pasta! Anyway, in celebration of the Less is More mentality:
Spaghetti all'olio, aglio, e pepperoncini.
Ingredients for two people
Spaghetti
Olive oil
Half cup of Frascati wine, or any Italian white.
10 cherry tomatoes, quartered
3 cloves of pressed garlic
2-3 dried red peppers
water
Sea salt for boiling water.
Heat up olive oil and wine to a low simmer, and throw in garlic, red peppers, and let them simmer for about 1 minute
Then throw in the quartered cherry tomatoes. I used beautiful tomatoes from the hillsides of Vesuvius, which are very sweet and full of volcanic minerals. But I imagine your garden tomatoes would be even better.
Boil water and throw in about a tablespoon of coarse sea salt when water comes to boil. Then add spaghetti and cook for about 7 minutes to make it al dente. Of course remember everyone has their own definition of al dente the roman version is quite hard.
While spaghetti is cooking, simmer the tomatoes at a medium heat.
Drain pasta, put back in pot and add the sauce to the pot and stir. Some people add fresh Italian parsley at the end. Stir everything together, serve in pasta bowls, and ecco!! You have an Italian classic.
I always drink Frascati with this. Producers I recommend are Castel De Paolis and L'Olivella, both of which are vegan and organic
Have fun!!